The Monken Hadley Common Conservation Volunteers
Who are we?
The volunteers are a group of people dedicated to the conservation of the Common as natural woodland and grassland open to the public for quiet enjoyment.
What do we do?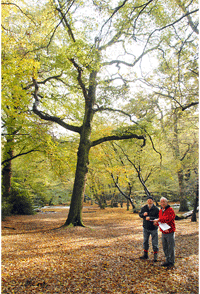 Tree safety survey
Operating under a broad five year management plan aimed at the conservation of the flora and fauna indigenous to the area, we carry out practical work on the streams, ditches, ponds, footpaths and vegetation on the Common attempting to ensure it is a safe environment while retaining its natural beauty and diversity.
Regular tasks include:
clearing streams and ditches;
path clearance where the undergrowth has spread;
cutting down and removal of dangerous/fallen branches;
removal of brambles & self-seeded saplings from designated grassland;
pond clearance;
cleaning and painting the five white gates;
assisting in regular inspections of the woods for safety, dumped rubbish, and any other matter requiring attention;
litter collection;
removal of larger items of dumped rubbish such as abandoned motorcycles, when this can safely be done;
providing assistance to professionals hired for special purposes e.g. tree surgeons;
carrying out occasional minor repairs and maintenance e.g. seating, noticeboards, railway sleeper bridges.
For the most part, we only use hand tools which are provided and nobody is asked to do anything beyond their ability.
What area do we cover?
Assisting the tree surgeon
We look after all 70 ha of the Common except for the cricket pitch (managed by Monken Hadley C.C.) and the immediate surrounds of Jack's Lake (cared for by the Hadley Angling and Preservation Society).
When do we meet?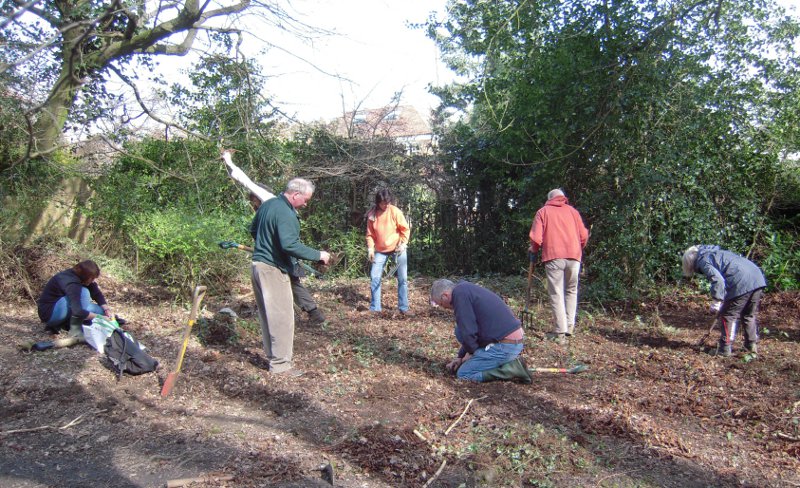 Removing variegated yellow archangel
We normally meet at a nominated point on the Common at 10 a.m. on Tuesday mornings, and work for approximately two and a half hours…. with a coffee break! There are usually six to ten of us each week, and most of the volunteers attend fairly regularly, but how often you attend is up to you.
What do we get out of it?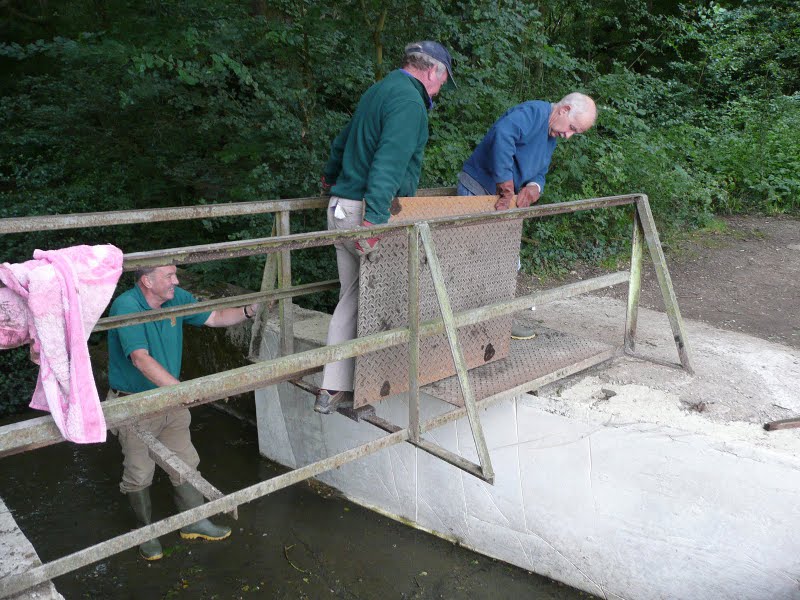 Refurbishing the bridge at Jack's Lake
If asked, most of the volunteers would say they get a warm feeling from doing some worthwhile work in the local community. Others would say they use Tuesday mornings as their outside gym session, and there are times when we get a real buzz and sense of achievement from working together and finishing some project that makes a difference. We are often amazed at how much we accomplish in a morning, particularly as the first 10 minutes are often spent "discussing" the best way of tackling any one job!
How do I join?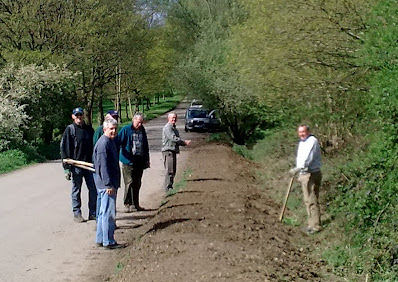 Re-seeding the verge at the bottom of Baker's Hill
Anyone who wants to join us is more than welcome – we are actively looking for new recruits as there's always plenty to do. You need to be "reasonably fit", over 18, and live locally (probably Hadley Wood, Cockfosters, East, New or High Barnet). If you would like further information or are interested in joining us, please contact Roger De La Mare on 07484 844432 or at RogerDeLaMare@monkenhadleycommon.net
Monken Hadley Common Conservation Volunteers is a group affiliated to the The Conservation Volunteers (previously known as the British Trust for Conservation Volunteers).
AGM Minutes
Please find attached the AGM minutesof meeting 16/10/2023.
Vacancies corner
Treasurer - the ideal candidate would be a recently retired accountant who could devote up to 2 hours a week to the task. Please contact Phil Harding for more details: treasurer@mhctrust.org.uk
Woodlands volunteer - we are looking for someone with expertise on woodlands in general to join either as a volunteer or, possibly, as a trustee